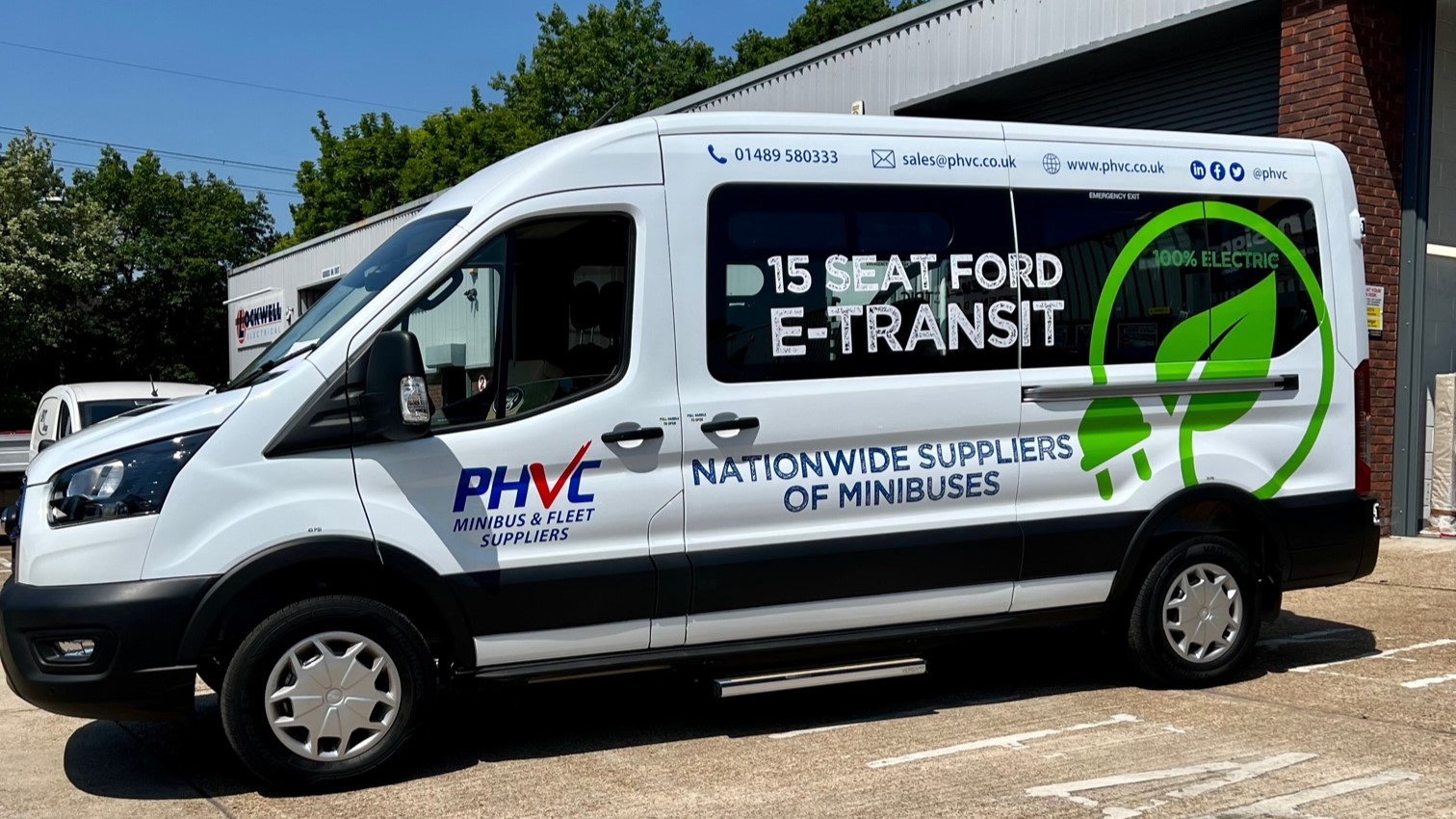 The All-New Ford E-Transit 15 Seat 100% Electric Minibus
Paving the way for Sustainable Urban Transportation
REVOLUTIONISE YOUR TRANSPORT & DRIVE THE CHANGE
In a world grappling with the urgent need to address climate change and reduce carbon emissions, the automotive industry is undergoing a transformative shift towards cleaner and more sustainable transportation solutions.
PHVC Minibus Leasing & Fleet Suppliers are extremely proud following the launch of their All-New Ford E-Transit 15 Seater 100% Electric Minibus – a joint project in conjunction with GowringsVersa Mobility who produced an extremely impressive conversion, subsequently approved by Ford UK. This cutting edge vehicle represents the future of transportation and PHVC are thrilled to be at the forefront providing the Education, Community and Business sectors across the UK and are already seeing a very favourable uptake.
Features & Specification
This new E-Transit is equipped with an impressive list of features including a premium electric step as standard and options to include an electronic lift with wheelchair accessibility – all of which ensures comfort, safety and security with every journey. This vehicle is purpose built to help your business meet its sustainability targets, without compromising on capability or versatility.
This revolutionary new vehicle can also reduce running costs by up to 40% compared to internal combustion engine models thanks to lower maintenance expenses due to fewer moving parts.
A 400-volt battery with 68 kWh of usable power does all the hard work, so you will never have to worry about low-emission zones again. The E-Transit battery delivers an impressive range of up to 166-196 miles (WLTP test results. 196-mile WLTP Overall Range reflects a combined driving cycle and 166-mile WLTP Extra High range reflects motorway driving) on a full charge.
The optimised driving modes are:
Eco Mode improves energy by up to 10%
Low model increases regenerative braking
Normal mode is balanced for everyday driving
Slippery mode offers greater control over low traction surfaces
For more details on how you can arrange to trial our Electric Demonstrator or if you would like any further information please contact us today or call the PHVC Team on 01489 580333.